CARLTON PARTY HIRE THUNDER TRUCKS
Carlton Party Hire ThunderTrucks are the Heavy Metal racers. Highly modified V8's thru to street legal and road registered 4×4's and everything in between. Big, fast and loud – spectators get ready. These are the racing 4X4's.ORANZ Class 8 & Class 4 – all specifications are as per ORANZ rulebook.
Please Note: Mixed Classes will be handicapped during Heat races to provide close final laps between differing Classes in Group. Group make-up may be adjusted on the day to maintain racer numbers on the track.
---
#863   Name:  Leigh Bishop.
Brand: Mason Motorsport, Engine:  6.2 litre V8 LS3, Injected.
Offroad Racing Highlights:  2019 Central Series Champion , 2019 NZ Shortcourse 1st in U Class, 3rd Overall , 2018 Rollover Champ (joke).
Sporting History: .
Sponsors:  Concrete Treatments , Foamcrete.
---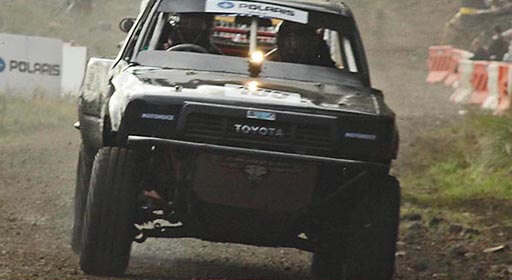 #405   Name: Gerrad Chitty.
Brand:Toyota Hilux, Engine: 3400cc, Injected.
Offroad Racing Highlights: Class Win NZ1000 2017, lass 4 Nth Island title , 4th overall Peter Howell Memorial 2019.
Sporting History: Dirt Track Racing with Waiuku Dirt Track for 30 years, Rallying for many years.
Sponsors: Waiuku Radiators and Mufflers, Absolute Spraypainting.
---
#889   Name: Cooper.
Brand: Geiser Brothers Pro2, Engine: 6.8 litre Chev V8, Carburettor.
Offroad Racing Highlights:6 years full time racing LOORS in USA, 2 of the top ten biggest crashes in Pro2.
Sporting History:Western Springs Mini Sprints & Midgets, USA Midgets & 410 Wingless Sprint Cars.
Sponsors:Cooper Enterprises Ltd, Destination Racing.
---
#893   Name: Malcolm Langley.
Brand: Chev V8 Pro4, Engine: 6.7 litre, Injected.
Offroad Racing Highlights: -.
Sporting History: Offroad Racing.
Sponsors: Battery Town.
---
#841   Name: Ricky May.
Brand: Nissen V8, Engine: 4.5 litre, Injected.
Offroad Racing Highlights:Raced for 12 Years in Class 7, C, 5, 8. multiple class wins in C Class. .
Sporting History: -.
Sponsors: Lanco EX Ltd, Mad May.
---